Grammy nominees for their 2006
Latigo
and 2007
Whirled Chamber Music
,
Quartet San Francisco
pays homage to the legendary pianist and composer Dave Brubeck on its new ViolinJazz Recordings CD,
QSF Plays Brubeck
. The acclaimed cross-genre string quartet will premiere the material at a special CD release appearance, at Yoshi's in San Francisco, on the
August 31
release date.
"This CD was inspired by our love for the music of this American legend," says violinist
Jeremy Cohen
, executive producer and arranger of nine of the twelve tracks on the new disc. "Breaking stereotypes about string music has been a real motivation for this ensemble." The son of classical musicians, Cohen says his parents developed in him a love for "the Four B's -- Bach, Beethoven, Brahms, and Brubeck," adding that the early Brubeck albums represented on the new CD were records he listened to in his youth.
Established in 2001 by Cohen, Quartet San Francisco is comprised of Cohen and
Alisa Rose
(violins),
Keith Lawrence
(viola), and
Michelle Djokic
(cello). Rose and Djokic are 2009 additions to the quartet while Lawrence joined the group in January 2008. As crossover specialists they work in multiple styles -- Latin, swing, bluegrass, rock, and jazz.
QSF Plays Brubeck
is their first project devoted almost entirely to the work of one composer (the CD includes the Paul Desmond-composed hit for the Brubeck Quartet, "
Take Five
"), and it is the first string quartet recording of Brubeck's jazz masterpieces.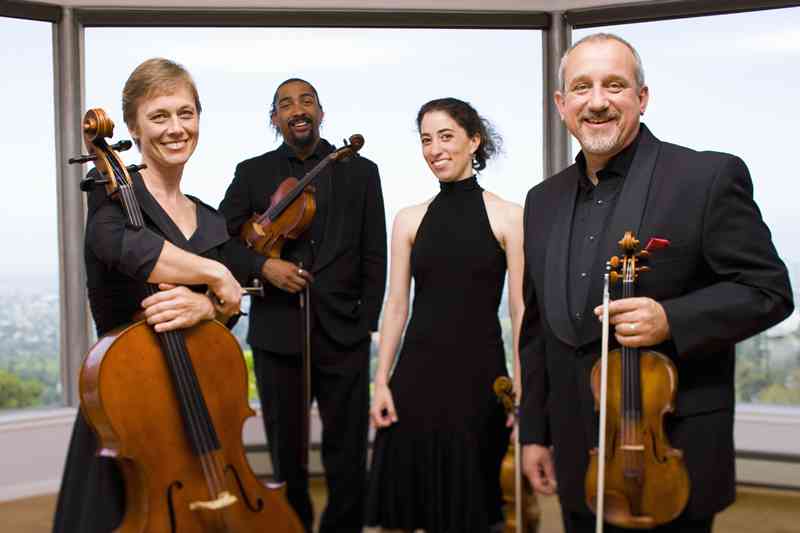 QSF Plays Brubeck
was recorded in summer 2009 by engineer Judy Kirschner at Skywalker Ranch in Nicasio, CA, where their previous ViolinJazz CDs were recorded. "This is a project that's been on my mind for a very long time. I always felt that Dave's classic tunes like '
Three to Get Ready
,' '
Bluette
,' and '
Kathy's Waltz
' would translate well to string instruments," says Cohen. The CD includes arrangements from cellist-arranger Matthew Brubeck ("
The Duke
"), Bay Area pianist-arranger-composer Larry Dunlap ("
Bluette
"), and composer Robert Gilmore ("
Forty Days
"). "These arrangements for string quartet allowed us to expose even more of the tenderness and honesty that is intrinsic in Dave Brubeck's music," says cellist Michelle Djokic.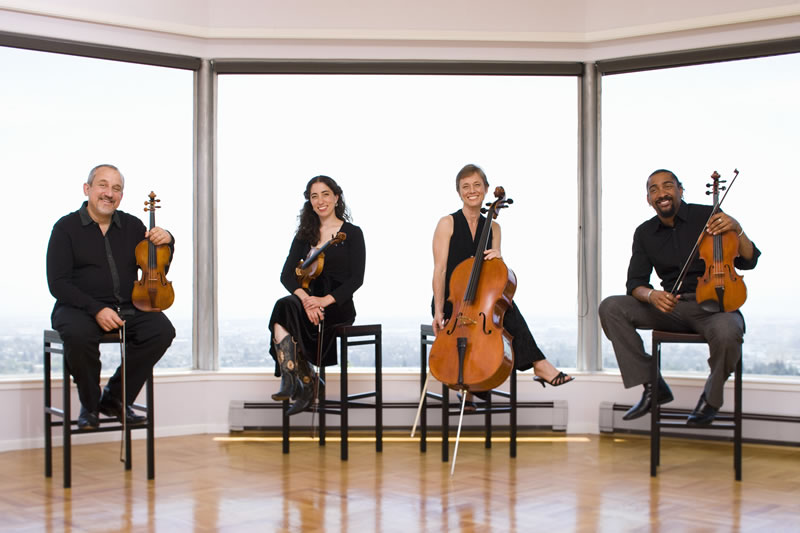 In addition to arrangements of five tracks from Brubeck's legendary 1959
Time Out
album,
QSF Plays Brubeck
includes renditions of works from
Jazz Impressions of Eurasia
(1958),
Time Further Out
(1961), and
Time In
(1965). Brubeck's albums on Columbia Records were known for their use of contemporary paintings on the covers, featuring works by artists Joan Miró, Franz Kline, and Sam Francis. In keeping with this tradition,
QSF Plays Brubeck
features a
Frank Stella
painting on its cover. "We wanted to pair Brubeck's music with a painting from the same era by a significant artist. Stella's 'Tundra' from 1958 stood out as the perfect companion," says the CD's producer,
Andrea Liguori
. Previous albums of Quartet San Francisco featured the art of Richard Diebenkorn (
Latigo
, 2006) and Jim Flora (
Whirled Chamber Music
, 2007).
In 2005
Quartet San Francisco
was featured in a Brubeck Festival concert hosted by Mills College in Oakland, Brubeck's alma mater. Dave and Iola Brubeck were in the audience for QSF's performances of "Strange Meadowlark" and "Blue Rondo ŕ la Turk," and following the concert Brubeck encouraged the ensemble to continue their exploration of his compositions. "It was a little nerve-wracking to be playing this man's music for him, completely re-spelled in another genre. Playing 'Blue Rondo' for Brubeck was a surreal experience. He's been supportive of our efforts ever since," says Cohen. "It's a joy to bring his music to the world of strings."
Quartet San Francisco: QSF Plays Brubeck
(ViolinJazz Recordings)
Street Date
: August 31, 2009
http://www.quartetsanfrancisco.com/
Quartet San Francisco performing Dave Brubeck's "
Three to Get Ready
" at Skywalker Ranch:
http://www.youtube.com/watch?v=AEelr03Rn3I